Jacobs vs. Chavez results: Daniel Jacobs makes Julio Cesar Chavez Jr. quit for fifth-round TKO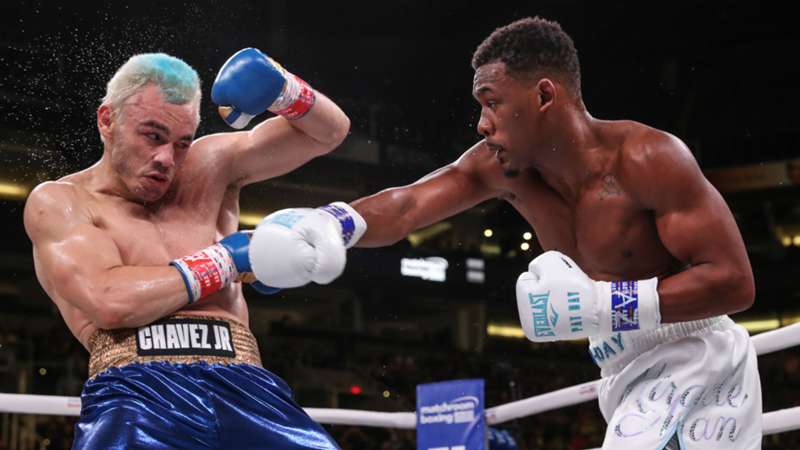 DAZN
Daniel Jacobs was looking to make a splash in what was supposed to be his super middleweight debut Friday night against Julio Cesar Chavez Jr. Things started to south Thursday when Chavez came in nearly five pounds overweight and an agreement had to be reached for a 173-pound catchweight.
A bout that was starting to look competitive took a sharp left turn between Rounds 5 and 6 when the son of the legendary Julio Cesar Chavez quit on his stool. It was initially believed that Chavez claimed he had broken his hand, but Chavez later said he had a broken nose. The result gave Jacobs the TKO victory at the Talking Stick Resort Arena in Phoenix. DAZN News had the fight scored 48-47 for Jacobs when Chavez decided he had enough. Fans inside the arena immediately started booing and pelting Chavez with trash. Chavez refused a postfight interview and ran out of the arena.
Later, Chavez spoke with DAZN's Chris Mannix, saying his nose was broken after taking what he claimed were multiple illegal shots from Jacobs.
Chavez (51-4-1, 33 KOs) fought the first two rounds like he wanted to be there; he was the aggressor and landed the heavier shots. Jacobs gained control of the action starting in the third round by popping the jab and not letting Chavez get on the inside and connect on his power shots. 
It appeared Chavez was back in the fight in the middle of the fifth round when he landed a hard left hook and followed it up instantly with a sharp straight right hand. Jacobs absorbed the shots and regained control with the round coming to a close. Chaos then ensued.
Here is what happened in Friday's bout between Daniel Jacobs and Julio Cesar Chavez Jr.:
Daniel Jacobs beats Julio Cesar Chavez Jr. by fifth-round TKO as Chavez quits
(All times Eastern.)
11:49 p.m.: Jacobs def. Chavez by TKO at 3:00 of the fifth round.  In a stunning turn of events, Chavez refuses to come out for the sixth round as he says he broke his hand. Fans are furious; they're throwing anything and everything into the ring. 
Round 5: Jacobs controlled the early part of the round, and then Chavez came back with a left hand followed by a right that got Jacobs' attention. Jacobs bounced back with a flurry of shots to regain control. The momentum Chavez had is gone and Jacobs is well in control. (10-9, Jacobs; 48-47, Jacobs)
Round 4: Jacobs is getting into a rhythm. Fighting behind the jab has allowed him to start throwing power shots. An exciting end of the round when Jacobs started his using his speed and precision. Chavez is starting to tire and it's only entering the fifth. (10-9, Jacobs; 38-38)
Round 3: Good job there by Jacobs. He kept Chavez at the end of his jab and kept throwing it so Chavez couldn't come onto the inside. Jacobs can do that all night long. The one thing I don't like is Jacobs keeps asking his corner if he's winning the rounds. Just go and fight. (10-9, Jacobs; 29-28, Chavez)
Round 2: Another good round for Chavez. He's landing the harder shots while Jacobs looks to still be trying to find things out. (10-9, Chavez; 20-18, Chavez) 
Round 1: An intriguing first round because Chavez showed more in one round than he did in 12 against Canelo Alvarez. He was more active with the jab and was finding a home for the left hook. Jacobs came on at the end of the round by using the jab and going to the body. (10-9, Chavez)
11:16 p.m.: It's time for the main event as Daniel Jacobs battles Julio Cesar Chavez Jr. in a catchweight bout of 173 pounds. The bout was set to take place at super middleweight, but on Thursday, Chavez came in at 172.7 pounds, nearly five pounds above the 168-pound limit. Both parties then reached an agreement, with Chavez forking over a reported $1 million to keep the fight intact. 
This is Chavez's last shot at glory. He screwed up Thursday. Can he make up for it Friday?
Julio Cesar Martinez dazzles in stopping Cristofer Rosales to capture vacant flyweight title
10:50 p.m.: Martinez def. Rosales by TKO at 1:19 of the ninth round to become the WBC flyweight champion. The first few rounds were a bit back-and-forth, but Martinez took control in the fourth and didn't look back. Somehow, Rosales kept absorbing punishment from Martinez. It was only a matter of time before Martinez put Rosales away.
It happened in the ninth round when Martinez hit a hard left to the body proceeded by a quick right to the body. Martinez then closed the show by unloading a barrage of shots upstairs. Tired of seeing the punishment Rosales was absorbing, the referee stepped in and stopped the fight.
You couldn't ask for a better performance. Martinez showed exceptional speed, power and fluidity. The way he switches stances seamlessly is a thing of beauty. It helps to make him a fantastic fighter. 
Round 8: Not a bad round for Rosales. He decided to stop being tentative; he's letting his hands go. Even though Martinez took his foot off the pedal a bit, he kept coming and still landed the harder shots. (10-9, Martinez; 79-73, Martinez)
Round 7: How is Rosales standing? Martinez is getting through the guard, throwing every shot with evil intentions and connecting on a good chunk of them. It's time for the fight to be over. Rosales is taking way too many shots to the head. (10-9, Martinez; 69-64, Martinez)
Round 6: Martinez's fluidity is something else. After getting hit with a body shot, Martinez closes the round with a right hook, a left hook and a looping left uppercut. Unbelievable. (10-9, Martinez; 59-55, Martinez)
Round 5: Give Rosales credit. I don't know how he's absorbing all those hard shots by Martinez to the body. The fight is getting away from Rosales. He needs to figure it out and in a hurry. (10-9, Martinez; 49-46, Martinez)
Round 4: Martinez is busting Rosales up. He's been starting with the right uppercut to the body and is now throwing straight left hands upstairs. Rosales' face is becoming all bruised up. Let's see if Rosales continues to pump the jab as he did at the end of the round. (10-9, Martinez; 39-37, Martinez)
Round 3: The way Martinez comes in with no fear is a sight to see. He walked right in and kept finding a home for the left hook and a sharp right uppercut to the body. Rosales needs to keep pace with Martinez. (10-9, Martinez; 29-28, Martinez)
Round 2: What an action-packed round! Rosales connected on three consecutive right hands, the latter of which stunned Martinez, but Martinez came up with hooks from both hands. Both guys landed their fair share of shots, but Rosales' accuracy gave him the edge. (10-9, Rosales; 19-19)
Round 1: Good action in the first round. The way Martinez is already switching stances and landing the heavier shots is a great sight. (10-9, Martinez)
10:11 p.m.:  It is time for the co-main event of Jacobs vs. Chavez: Julio Cesar Martinez and Cristofer Rosales meet for the vacant WBC flyweight title. Rosales (29-4, 20 KOs) beat Eliecer Quezada by TKO his last time out, in August. Martinez (14-1, one no-contest, 11 KOs) went to a no-contest in his last fight against Charlie Edwards after it was deemed Martinez won by TKO.
This should be the best fight on the main card.
Raymond Ford dazzles in first-round stoppage of Francisco Muro
10 p.m.: Ford def. Muro by TKO at 1:41 of the first round. Ford came out on a mission and didn't let Muro get started. He didn't give Muro room to breathe and stayed inside his space so Muro couldn't tee off. Ford immediately sent Muro to the mat with a crisp, straight left hand. Ford finished it off when he got Muro against the ropes and dropped him with a right hand. 
Ford is a prospect you need to watch. He possesses great speed and above-average power.
Maurice Hooker makes successful welterweight debut, stops Uriel Perez in the first round
9:46 p.m.: Hooker def. Perez by TKO at 2:52 of the first round. Hooker kept Perez at the end of his jab. The momentum changed when Hooker connected on a hard hook to the body. Hooker landed an overhand right to the top of the head that wobbled Perez. Seeing he had him in trouble, Hooker landed a right hand to the body that made Perez crumble. Hooker unloaded a series of shots with pinpoint accuracy to send Perez to the canvas.
Perez was slow to get up but was grimacing in pain while holding his side. The referee asked Perez if he wanted to continue. The ref didn't like what he heard and waved it off.
A good debut for Hooker, but he's insistent about going back to 140 pounds and becoming a champion there again. For a guy who has struggled to make junior welterweight, why put your body through the wringer when you could make the welterweight limit quite easily?
9:35 p.m.: Up next at Jacobs vs. Chavez: Maurice Hooker against Uriel Perez in welterweight action. Hooker (26-1-3, 17 KOs) will be in the ring for the first time since losing by sixth-round TKO to Jose Ramirez in a junior welterweight title unification bout at the end of July. Along with his return to the ring, Hooker has switched classes, from 140 to 147 pounds, and is now being trained by Brian McIntyre, who trains WBO welterweight champion Terence Crawford. Perez (19-4, 17 KOs) is competing in the United States for the first time. He's coming off the biggest win of his career, a knockout win over the previously unbeaten Mathieu Germain at the end of September.
This is designed to be an easy bout for Hooker to get his feet wet in a new weight class. Let's see how it plays out.
Reshat Mati scores four knockdowns to stop Rakim Johnson
9:21 p.m.: Mati def. Johnson by TKO at 2:05 of the first round. You couldn't ask for a better showing if you are a Mati fan. He got in, got out and made sure he didn't have to get out of the first round to score his fourth win of 2019. Mati runs his record to 6-0 with four knockouts. Remember, Mati is only 21, so he could take his time, grow into his body and work on his skills before he gets thrown into the lion's den.
9:10 p.m.: The main card of Jacobs vs. Chavez Jr. kicks off with Reshat Mati taking on Rakim Johnson in welterweight action. 
9 p.m.: Welcome to DAZN News' live coverage of Daniel Jacobs vs. Julio Cesar Chavez Jr. Grab the refreshments, sit back and follow along for what should be a great night of action.
Jacobs vs. Chavez undercard results
Liam Smith def. Roberto Garcia by unanimous decision (99-91, 99-91, 98-92); middleweights.
Josh Kelly def. Winston Campos via unanimous decision (99-90, 99-90, 98-91); welterweights.
Daniyar Yeleussinov def. Alan Sanchez by TKO at 0:19 of the fifth round; welterweights.