From Dapper Dan gear to in-ring skills, Devin Haney is tailor-made for boxing glory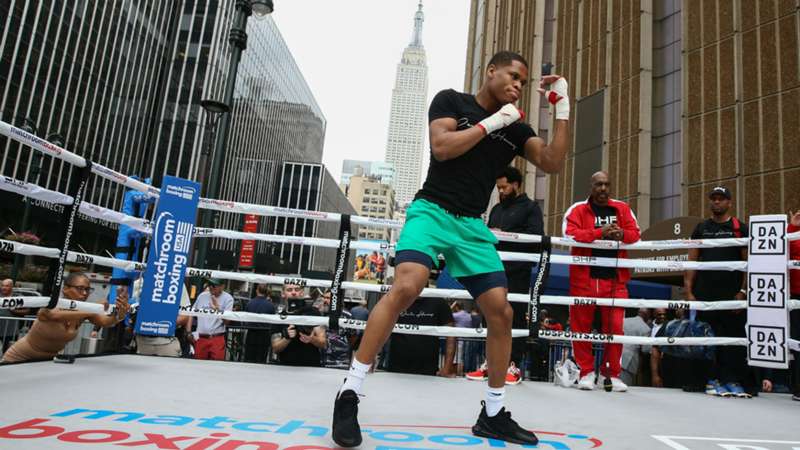 DAZN
HARLEM, N.Y. — Devin Haney peers over ring attire that he'll don Friday night and takes a moment to admire the work. It's a custom Gucci piece by Dapper Dan, the iconic fashion designer who has styled rap royalty including Jay-Z, LL Cool J and Rakim and struck an official partnership with the Italian luxury brand in 2017.
Pleased with what he sees, Haney flashes his megawatt smile, which is only about to grow wider across the 20-year-old rising boxing sensation's face. Gucci project manager Robert Carter invites Haney to check out Dan's new Capsule Collection in the adjacent showroom of the haberdasher's Harlem headquarters.
Haney excitedly accepts, as he and his father, Bill, walk outside and over to the other showroom, which is being guarded by security detail. Once they step foot into the room, the father and son pass by large frames of Rakim, Floyd Mayweather Jr., LL and Salt-N-Pepa all wearing Dap's custom clothes. Portraits of Jay-Z and Foxy Brown follow.
Carter notifies Haney's camp that this opportunity is granted by "appointment only."
"So, you have to have an appointment to get in?" Bill asks.
"Yeah," Carter responds, "but since you're here now, you have an appointment."
The lightweight star has access to peruse exclusive pieces, as he seizes the opportunity to try on a white hoodie, checking himself out in a mirror that stands across from the rack of unreleased garments.
After thumbing through the collection, Haney and his dad humbly thank Carter and exit Dapper Dan's. Haney could have easily chosen any ordinary tailor to create his ring wear, but he took it a step further, to a man who is regarded as one of the best in the business.
If anything, commissioning Dapper Dan to design his ring wear runs parallel to the way the Haneys have steered Devin's career — meticulously, without any steps skipped.
"Dapper Dan is a legend in New York and in the fashion world, so it's the perfect way to do it," Haney told DAZN News. "I'm a perfectionist in everything I do, and when you look good, you fight good. That's something that I believe in."
Haney (22-0, 14 KOs) will put that belief to the test Friday night, when he faces Zaur Abdullaev (11-0, 7 KOs) for the WBC world interim title at Hulu Theater at Madison Square Garden (live on DAZN).
The winner is slated to face unified world lightweight champion and arguably boxing's pound-for-pound best, Vasiliy Lomachenko — although Top Rank's Bob Arum will be pushing for Loma to meet the winner of an expected bout between IBF titleholder Richard Commey and Teofimo Lopez first. Matchroom Boxing promoter Eddie Hearn has already said that Haney will call out Lomachenko  in the ring if victorious Friday night.
"I think [Lomachenko's] acting like this isn't a title eliminator," Haney said. "Me or Abdullaev really exist. But that's OK. After this fight, we're going to demand that fight, push for that fight and we'll see what happens. After this fight, we're in play for the Lomachenko fight."
Before Lomachenko defeated Luke Campbell by unanimous decision  on Aug. 31, he expressed interest in facing Gervonta Davis, who officially vacated his WBA super featherweight title  to move up to lightweight a few days later.
"Tank" could be another obstacle in between Haney and Lomachenko, and from sparring the former two-time super featherweight champ in the past, Haney knows how big that fight could be as well.
"Tank is a monster and I'm a monster, so it was good quality work that people would pay to see," Haney said. "I want all the big fights. I want to fight all the top guys. If those fights don't happen, it won't be because of me and my side. We want to fight the best and we want to put on good fights for the fans. If the fights don't happen, it's not because of us."
Before those mega-bouts can materialize, Haney will have to handle business against Abdullaev.
"I know he's going to come to fight," Haney said. "He's not going to lay down."
But roughly two months from turning 21, the "Dream" is right where he needs to be — on the cusp on becoming a world champion and locked into huge fights.
That's a credit to the pristine mapping of Haney's career, with attention given to every detail, much like a Dapper Dan custom piece. Bill and Devin Haney have charted this upswing, plotting every move. And when the unexpected happened, they improvised.
When the Olympics raised its qualifying age to 19, Haney opted to turn pro. However, when he was still too young to be granted a boxing license in the U.S., a then-17-year-old Haney traveled south of the border and had his first four pro fights in Tijuana, Mexico, beginning with his pro debut in December 2015. He went 4-0 there before touching down in Las Vegas and defeating Rafael Vaszquez by unanimous decision at the MGM Grand Garden Arena in June 2016, but he would circle back to Tijuana for six more pro bouts.
Throughout the early part of his pro journey, Haney was simultaneously building his profile on social media.
"I was really built on the Internet," Haney said. "I didn't go to the Olympics and get a silver medal, gold medal or anything like that. I basically came out of the amateurs at the age of 17 and was built on the Internet, using social media. That's how the world started to know me at first, and then they started to see my talent when I started to fight on ShoBox and stuff like that.
"Devin Haney was built on social media. That's how Devin Haney needed to be built."
His father, a veteran in the music business, has always dropped gems of wisdom on his son, but gives Devin full credit for tapping into social media so early into the game.
"It was a blessing that Devin was so social-media savvy back in the very beginning stages of his career, even as an amateur, so I knew from having the music background that the social media marketing was kind of the new wave of promoting music, but it hadn't actually touched boxing, so to speak," Bill said.
"I think Devin was one of the first fighters to kind of promote himself using social media, using his sparring sessions, workout videos. It was kind of easy because Devin made it easy."
That being said, Bill did marry one music industry principle to Devin's career, and that's making sure he had a groundswell of popularity at home in Las Vegas.
"If you're not popping at home, then you can't pop anywhere else," Bill said. "Locally we just promoted him and we used different music videos with his workouts to kind of cross brands."
Blending music with his workouts and training videos throughout prominent gyms across the country broadened Devin's appeal to a national scale.
To date, Devin counts 410,000 followers on Instagram , and his fan base grows with each of his outings. Certainly, Haney's debut on DAZN this past May helped. At the MGM National Harbor in Oxon Hill, Md., he unleashed a vicious, overhand right that knocked Antonio Moran out on his feet instantly. The seventh-round evisceration also made him an instant KO of the Year candidate.
For the "Dream," it served as the missing link in his young career.
"That [knockout] took my popularity to the roof," Haney said. "That was everything that I was missing. Everyone was telling me that, 'You're able to box and use your speed and use your ring IQ,' but no one ever actually saw me punch somebody out like that.
"So, I feel like that's exactly what I needed at that exact time. So, everything played out how it was supposed to."
Haney could say the same about his career. It's all going according to plan — tailor-made, the way the Haneys prefer it to be.