Josh Warrington vs. Luis Alberto Lopez: Keys to victory for both fighters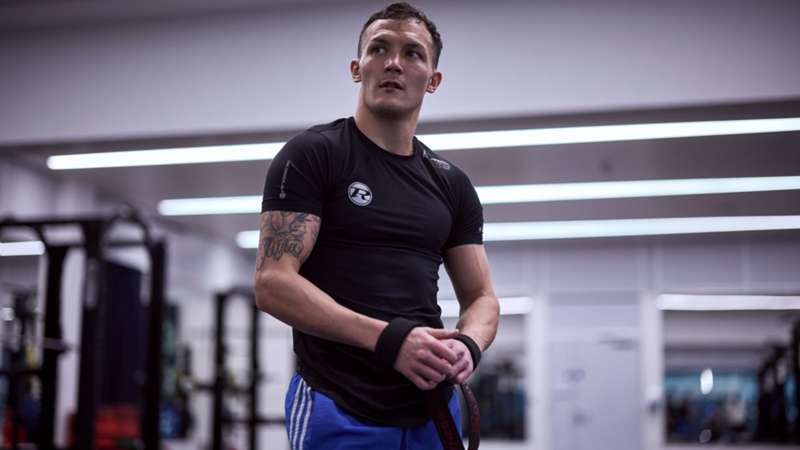 DAZN
The last time the boxing world saw Josh Warrington in action, he delivered a seventh-round TKO of Kiko Martinez.
Nearly nine months later, the IBF world featherweight champion looks to defend his title against Luis Alberto Lopez on Saturday night at the First Direct Arena in Leeds, England, and live on DAZN.
A splashy victory and "The Leeds Warrior" will set himself up for major possibilities in 2023.
A loss and the 32-year-old will fall victim to an upset for the second time in two years.
Will Warrington be dominant in his title defense? Or will Lopez seize the opportunity to play spoiler by leaving Leeds as the new world champ?
With the stakes high, DAZN lists the keys to victory for both fighters.
Luis Alberto Lopez's keys to victory
Feint to freeze Warrington
A page that Luis Alberto Lopez can borrow from Mauricio Lara would be how "Bronco" feinted to freeze Josh Warrington, before exploding up with piercing shots. It worked for Lara in the form of a ninth-round TKO upset in February 2021. Lopez moves well off the front foot, punching in motion. If he can incorporate a few more feints, he may be able to use his feet to forward fight on Warrington in spurts.
Step into splitting Warrington's guard
Lopez's ability to feint as aforementioned will help him to set up his shots. But even if he's unable to deceive Warrington, Lopez must still aim to split the Brit's guard. Warrington demonstrated a tighter guard against Kiko Martinez in March but Lopez must still throw laser-beam shots through. Lara did that piercingly enough to soften Warrington up toward a stunning TKO. Now, his fellow Mexican, Lopez, must try to do the same.
Launch the uppercut
It can be in a sweeping motion or straight up the alley but the moment Lopez consistently is able to split Warrington's guard with crisp jabs, he should look to detonate an uppercut. Lopez's throwing the crunching shot in motion and better yet off the feint could very well spell the difference whether he's able to damage "The Leeds Warrior" with something significant to leave England with the IBF world featherweight title in tow.
Josh Warrington's keys to victory
Get behind the left hand early
Josh Warrington did an excellent job of touching Kiko Martinez with a left-handed jab early back in March. At times, it was stiff and flush. At other times, he just pawed or grazed the Spaniard with the tool. Within the opening round that effort with the jab served as an entry point and setup tool for Warrington to unload on more damaging right and left hooks. Warrington should look to do the same against Lopez.
Unleash ferocious combination hooks
Warrington sits on his combo hooks well, especially when he throws a right to the body and a left across the jaw. The quicker Warrington establishes the southpaw jab, as aforementioned, the quicker we should see the 32-year-old unload the full force of those combination hooks to the body and upstairs.
Use bully boxing tactics
Warrington stands three inches taller than Lopez. That height advantage should pave the way for "The Leeds Warrior" to bury his shoulder into the Mexican's chest, create space and unload on more of those hooks to prolong the pain toward another possible stoppage victory.