Deontay Wilder says 'coward' Anthony Joshua doesn't have guts to confront him in ring after Tyson Fury fight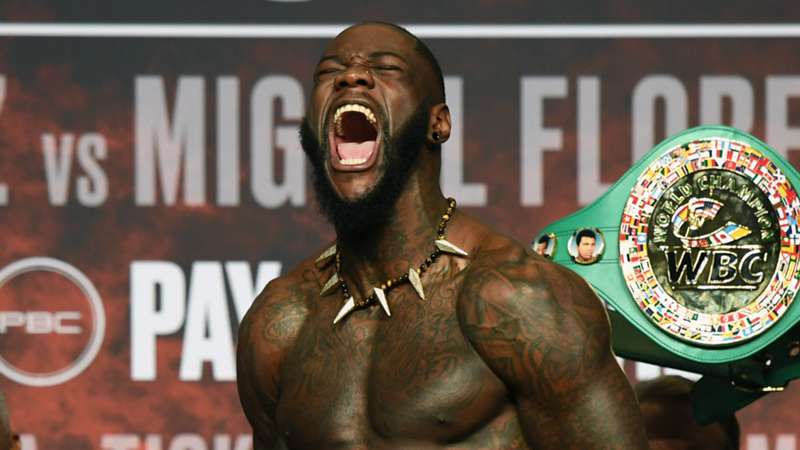 DAZN
Deontay Wilder isn't holding his breath over even a remote possibility that Anthony Joshua would ever try to confront him in the ring following the WBC heavyweight champion's rematch against Tyson Fury ... or after any of his bouts for that matter.
"The Bronze Bomber" doesn't think "AJ" has the guts.
"I'm not worried about that coward," Wilder told DAZN News referring to Joshua during an international media conference call Tuesday. "The coward can barely buy his titles back, let alone step in the ring with the king. He's been out of the picture. Ain't nobody talking about him no more, so there ain't no need to be bringing him up."
Clearly, all that's on Wilder's mind right now is defeating Fury controversy-free in their rematch on Feb. 22 at the MGM Grand in Las Vegas and taking the lineal title in the process. If he completes that mission, then another attempt to meet Joshua, the unified world heavyweight champion, with undisputed glory on the line could be broached again.
During Super Bowl 54 media week earlier this month, Wilder was tickled when asked for his opinion about Fury reportedly tabbing Joshua to spar with him in preparation for facing Wilder in the rematch.
"When I heard that, I was doing what I'm doing now — smiling," Wilder told DAZN's Andreas Hale. "It only allows me to continue to keep the claim that I'm the baddest man in the planet. I'm the No. 1 heavyweight in the world.
"Now you got two top heavyweights trying to team up against me," he continued. "I'm supposed to be the one who has the least skills out of everyone, so why have to team up on me? The only thing you gotta do is out-box me, right? I just looked at that as more motivation."
Wilder added that Fury could use all the help he could get, insinuating that the "Gypsy King" will need every bit of it to have a shot against him in their second fight.
"This is definitely the biggest fight in my life right now, as each fight is, and I'm looking forward to it," Wilder tacked on. "So, if (Joshua) could come and give him some type of pointers, or looks or whatever to make this fight even more exciting, then go ahead and help him out."