Eddie Hearn discusses possible next fights for Juan Francisco Estrada and 'Chocolatito'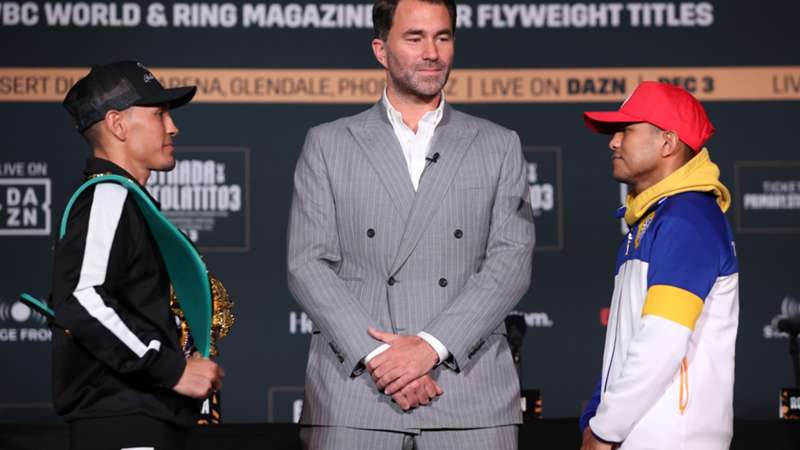 DAZN
After watching the fireworks that Juan Francisco Estrada set off in defeating Roman "Chocolatito" Gonzalez on Saturday night, Eddie Hearn didn't hesitate sharing possible next fight options for the newly-crowned WBC super flyweight champion.
Considering how exciting the Estrada-"Chocolatito" trilogy fight was, the Matchroom Boxing promoter mentioned that there's a possibility for a fourth clash between the warriors. But Hearn added another fight idea that he thinks would be a mega bout for "El Gallo."
"I think Julio Cesar Martinez against Estrada is a great fight for Mexico," Hearn told DAZN's Chris Mannix fresh off Estrada's majority decision victory over Gonzalez.
Martinez defended his WBC flyweight world title against Samuel Carmona in the co-feature to Estrada-Gonzalez 3. An Estrada-Martinez pairing could come at a catchweight or 115 pounds if the latter decides to move up once again. When Martinez dared to be great by moving up to super flyweight to fight Gonzalez in March, "Chocolatito" proved to be too stiff of a challenge, handing the Mexican boxer a unanimous decision loss.
Whether Martinez can fare better against Estrada would be intriguing.
Following his second loss to Estrada, Gonzalez said that he'll have to discuss his boxing future with his family, though Hearn mentioned the winner of the upcoming Joshua Franco-Kazuto Ioka unification fight as a possibility before once again sharing his intrigue for a fourth chapter to be written between "El Gallo" and "Chocolatito."
"This is a guy that's going to take his time," Hearn said about Gonzalez. "There are big fights going on — Franco and Ioka in Japan coming up in December. I still like No. 4 (for Estrada-Gonzalez)."