Savannah Marshall ready to make change ahead of potential Claressa Shields rematch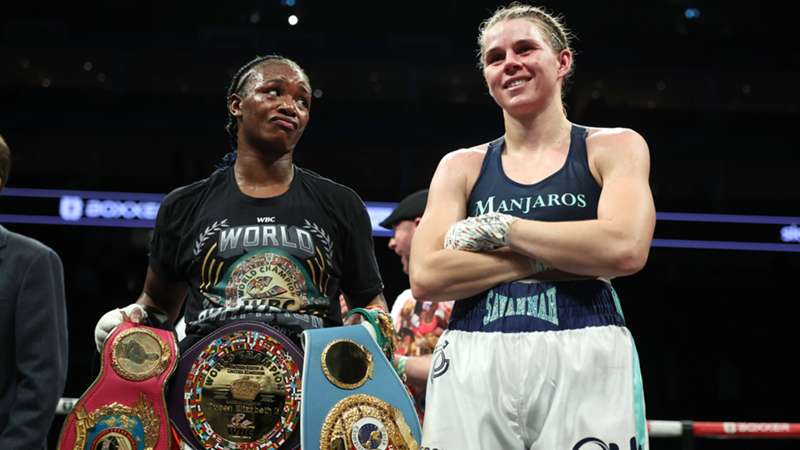 DAZN
Savannah Marshall and Claressa Shields have their own fights to get through first, but the defeated Briton is ready to fight in America for the rematch.
Shields became undisputed at middleweight after defeating Marshall in October in England, but they have since moved onto other opponents.
Shields faces Maricela Cornejo on Saturday, live on DAZN (click here for details) and Marshall fights on July 1 against Franchon Crews-Dezurn.
Marshall points to the rivalry with Shields as to why the fight sold so well.
"I've seen how my profile grew just from that one fight and I believe that it was down to the rivalry massively," Marshall said to Sky Sports.
"Even now, all people are saying is: 'When's the rematch? When's the rematch?' That's what boxing's about. It's a business. If you haven't got a rival, it's not that you're going to struggle. But that's where it happens.
"They're the fights people want. Where there's a bit of needle."
For her part, Marshall hopes to get back to winning ways
"Look I got beat, I'm not a champion anymore. But I've got the backing and people want to see me fight. There's a buzz already around this fight and I don't think she [Shields] likes that," she added.
However, she was willing to discuss a rematch with Shields already, explaining: "She wanted me to go to America. I agreed. I said I'd go to America but I want paying. It doesn't generate the same money as it does here. I think she's starting to realise that.
"I think we will eventually get there," she continued. "She needs me just as much as I need her. She's never going to make as much money fighting anyone else than what she would fighting me.
"I've learned that that's what boxing's about. People love confrontation. People love watching people who actually hate each other fight."