Canelo vs. Kovalev: Industry experts' predictions on who wins WBO light heavyweight title fight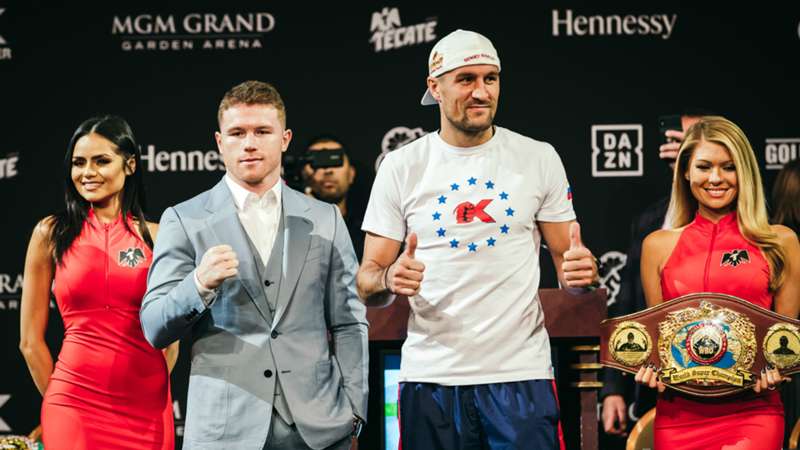 DAZN
Unified middleweight and WBA (regular) super middleweight champion Canelo Alvarez returns to the ring for the second time in 2019, as he ventures up two weight classes to challenge Sergey Kovalev for the WBO light heavyweight championship from the MGM Grand Garden Arena in Las Vegas.
A win by Alvarez (52-1-2, 35 KOs) would make him a four-division world champion and put him in the conversation of all-time great Mexican boxers.
Kovalev (34-3-1, 29 KOs), a three-time 175-pound titleholder and former unified champion, is coming off an 11th-round knockout over Anthony Yarde in August to successfully defend the WBO title.
Many boxing pundits and fans believe Kovalev presents a tough challenge to Alvarez. We spoke with some of the experts to discuss who comes out on top in the fight, which will be shown live on DAZN.
Dan Rafael, ESPN.com: It's an exciting and historical match, and I expect a good fight. Even though Canelo is moving up two divisions to challenge Kovalev, given where each man is in their career, it's hard to pick against the younger, much fresher Canelo, who hand picked Kovalev to fight and continues to improve in my view. The Kovalev of a few years ago probably beats Canelo handily. Now? The tide has turned. I like Canelo to wear Kovalev down and stop him late.
Prediction: Canelo Alvarez by stoppage.
Diego M. Morilla, The Ring en español: There is a perfect timing for every fight, and this is the right time for Canelo to reach for this historic achievement against a widely respected champion who is just ripe for the taking. As formidable a fighter as Kovalev may have been, he was almost stopped in his last fight by a bulky guy with just average speed and accuracy, and who claimed to have sparred a total of zero rounds in preparation for the fight. Against a motivated, lighter, fast, defensively-improved and hard-punching Canelo, his luck will run out — and so will his championship days.
Kovalev's jab may do some damage and hold back Canelo just enough to put a few rounds in the Russian's scorecard, but the Mexican superstar is just too young and too hungry to let this golden opportunity to grab a fourth divisional crown go to waste. Anything between a pedestrian-points win to a stunning, highlight-reel stoppage is possible, but in either one of those possible outcomes it will be Canelo's hand being raised at the end of the fight.
Prediction: Canelo Alvarez by decision. 
Jake Donovan, BoxingScene.com: Public perception is that Canelo chose Kovalev merely because he's the perceived weakest light heavyweight titlist and therefore the easiest path to a (fourth) division conquered. Even if he believes that to be true, there won't be anything easy about Saturday's fight. The skill level is not that far apart to where size doesn't matter. Kovalev will impose his will early, with Alvarez riding it out and putting in enough work late against a fatigued foe to score a close and likely disputed decision (disputed only because we love to debate any Canelo fight that goes the distance).
Prediction: Canelo Alvarez by decision.
Kelsey McCarron, BleacherReport.com: Alvarez is taking a big risk, albeit a calculated one, in taking on Kovalev for the WBO light heavyweight title. It's a risk because at some point size does matter in boxing. It's calculated because Andre Ward already established a good blueprint for Alvarez to follow by defeating Kovalev twice. Moreover, Alvarez is 29 and still in his prime while Kovalev is 36 and on the slide. Regardless, I think the fight is really close. Kovalev will force Alvarez to be the aggressor and use his longer reach and excellent jab to give the judges a real tough fight to score.
Prediction: Canelo Alvarez by majority decision.
Carlos Toro, Fightful.com: Recent history shows that Canelo Alvarez may be a little too ambitious going around. Guillermo Rigondeaux, Mikey Garcia, Kell Brook and Amir Khan among others in recent years have all moved up two weight classes to try and win a world title and failed to do so. Yet, with Alvarez, one of boxing's best pound-for-pound fighters, things are different. Sergey Kovalev isn't just an older fighter, but is someone who doesn't respond well to getting hit hard to the body throughout a fight, something Alvarez and his team are fully aware of and will try and take advantage of like he did against Rocky Fielding 10 months ago.
That's not to say Kovalev has no chance of winning. One can argue that Kovalev has a great chance of winning this fight. His jab, especially since linking up with Buddy McGirt, has been sensational as of late and his size will certainly play a role in his favor at some point in the fight. But for Kovalev to win, he might have to knock Alvarez out because it's incredibly hard to envision two judges in Las Vegas giving Kovalev the win. Alvarez has too many tools in his pocket and the few weaknesses in Kovalev's game will give the Mexican superstar everything he needs to win this fight. Kovalev will make this fight competitive at times, but Alvarez will be too much for him.
Prediction: Canelo Alvarez by decision.