Canelo vs. Kovalev results: Canelo Alvarez knocks out Sergey Kovalev to win light heavyweight title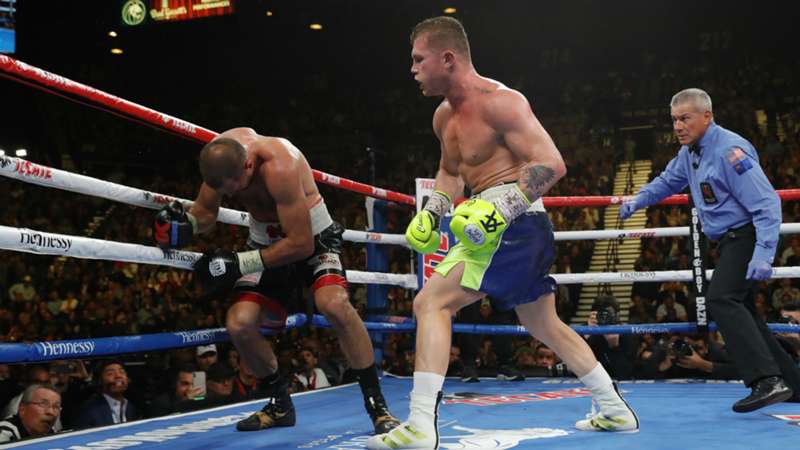 DAZN
Canelo Alvarez is now a four-division world champion. And he completed the task in stunning fashion when he scored a vicious 11th-round knockout against Sergey Kovalev to claim the WBO light heavyweight title at the MGM Grand Garden Arena in front of 12,646 rabid fans. 
It may have taken a little longer than Canelo expected with the fight getting a late start, but the 29-year-old warmed up at just the right time to make history as the 25th fighter to hold world titles in four weight divisions and the second to win world titles as both a welterweight and light heavyweight.
But it wasn't easy.
Canelo (53-1-2, 36 KOs) was facing a former top 3 pound-for-pound fighter in Sergey Kovalev who had a height and reach advantage. Not to mention that Kovalev stuck to a disciplined game plan that saw him work tirelessly behind the jab. It worked for the first half of the fight as Kovalev (34-4-1) plucked away at Canelo and kept him honest behind a long jab. Canelo sought to work the body, which was considered the path to victory according to many boxing pundits. However, Kovalev dealt with Canelo's body punching and stuck to his guns by firing the jab whenever distance was created. 
Interestingly enough, it was the smaller fighter stalking and throwing the heavier punches while the bigger fighter looked to box and win on points. 
And, for the most part, the plan was working for Kovalev. Eventually, Canelo chopped him down. 
"It was a very close fight because he was defensive, he was closing up his guard," Canelo said. "All he was doing was trying to establish points, but we knew what was coming. Inevitably it would come, and everything came out the way we had planned."
Prior to the 11th round, there was no true sign of Kovalev slowing down. It was a tightly contested fight that could have gone either way. But then it all changed with one hellacious combination.
Canelo had spent much of the fight firing a left hook over the top. Kovalev had done an excellent job avoiding the punch, and if it landed, he managed to escape danger. But Canelo refused to abandon it, and it finally found a home on the temple of the former unified champion and destroyed his equilibrium. 
As Kovalev staggered, a patient Canelo waited for the perfect opportunity to uncork a right hand that landed squarely on his opponent's chin and turned the lights out. There wasn't much need for a count as there was no chance the Russian would make it to his feet. It was called to a halt immediately at the 2:15 mark, and the fighter with the richest contract in boxing finds himself in rarified air.   
"The plan overall was patience, that was basically it — to have patience," Canelo said. "We knew it was going to be five, six rounds, and it was going to take some time for me to get him. But honestly, he's a great fighter. I'm new at this weight, new in this division. Much credit to him, he's a great fighter, but we stuck to our game plan. It was delayed a little bit but overall it was successful."
With the victory, Canelo is now the WBO light heavyweight champion, unified middleweight champion and WBA (Regular) super middleweight champion. 
Where he goes from here is anybody's guess but the options are wide open. 
"[After this] the plan was to go down to 160, 165, but why not — maybe 175 again," he said.
One thing is for sure, Canelo is making history and doesn't appear to be close to slowing down. 
Canelo vs. Kovalev results
Canelo Alvarez knocks out Sergey Kovalev to capture WBO light heavyweight title
2:05 a.m.: Canelo def. Kovalev by knockout at 2:15 of the 11th round to become the WBO light heavyweight champion.
Like a lot of the fight, it was another close round when Kovalev was against the ropes. Alvarez threw two hard shots to the body. Seeing an opening, Alvarez threw a short right hand that caught Kovalev's attention. Seconds later, Alvarez connected on a left hand that wobbled Kovalev and had him barely standing. Sensing the end was near, Alvarez threw a stinging left hand that nearly sent the former champion through the ropes, and the fight was called off, giving the Mexican star his fourth world title in four different weight classes.
Round 10:  An interesting round. Kovalev had his moments. Alvarez had his moments. Alvarez's flurry at the end with an uppercut to finish it off stole the round. (Canelo 10-9, 95-95)
Round 9:  Kovalev changed it up again and went back to the jab. This time around, it kept Alvarez at bay and allowed Kovalev to get another round. We have a close fight, ladies and gentleman. (Kovalev 10-9, 86-85 Kovalev)
Round 8: There could have been the adjustment, as it was Kovalev's best round in awhile. He was the one stalking Alvarez, being the aggressor and going to the body. If Kovalev is going to get it done, this is what he needs to do. (10-9 Kovalev, 76-76)
Round 7: Can see Kovalev starting to tire, and Alvarez is taking full advantage. The punches are coming in more clean and crisp for Alvarez. What adjustment is Kovalev going to make? (10-9 Canelo, 67-66 Canelo)
Round 6: Kovalev has to do more than throw the jab. Unless he's going to use it for the entire three minutes, he needs to change it up. When he does throw, he comes up short, and Alvarez is making him pay with hard body shots to each side. (Canelo 10-9, 57-57)
Round 5: A very close round. Each guy had their moments, but Alvarez landed the harder and more effective punches. What I did like seeing from Kovalev is him landing a couple of shots to the body. Let's see if he keeps continuing to do that. (10-9 Canelo, 48-47 Kovalev)
Round 4: Alvarez started out and ended the round with good body shots. He threw good combinations and is forcing Kovalev to hold him. A sign of things to come? (Canelo 10-9, Kovalev 39-37)
Round 3: Give credit to Kovalev. He's sticking to the game plan, and it couldn't be working any better. He's controlling the distance and making Alvarez shy about coming on the inside. When is Alvarez going to kick into high gear and get going? (Kovalev 10-9, 30-27 Kovalev)
Round 2: While Kovalev started to put more sizzle in the jab, Alvarez started to throw more but was swinging and missing more than he was connecting. You could see the quickness and the sharp shots to Kovalev's body are slowly getting there. But Alvarez needs to be more active, as Kovalev is winning based on the jab. (Kovalev 10-9, 20-18 Kovalev)
Round 1: Kovalev came right out pumping the jab. Alvarez's first big shot was a shot to the body. Kovaelv did a good job controlling the distance and just touching Alvarez. He's going to need to keep doing that and force Alvarez to come on the inside. (Kovalev 10-9)
1:12 a.m.: Out comes out Canelo Alvarez to a thunderous ovation.
1:07 a.m.: Kovalev walks out first to the ring. 
1:05 a.m.: It is now time for the main event as Canelo Alvarez (52-1-2, 35 KOs) battles Sergey Kovalev (34-3-1, 29 KOs) for the WBO light heavyweight championship. The talking is over and it's time to fight. Can Canelo move up two weight classes and claim another world title? Or does Kovalev shock the world and defeat the face of boxing?
12:44 a.m.: Canelo Alvarez vs. Sergey Kovalev will make their walks to the ring at the conclusion of UFC 244.
Ryan Garcia blows out Romero Duno in first round
11:40 p.m.: Garcia def. Duno by knockout at 1:38 of the first round.
Garcia and Duno both came out aggressive, throwing each punch with evil intentions. 
Garcia landed a thudding straight right hand that went through Duno's guard. Duno was slightly staggered. Garcia stayed composed and landed another right hand followed by a left hook to the temple to bend Duno backward, and the fight was stopped. 
You couldn't have asked for a better performance from Garcia. It was a star-making performance on one of the biggest stages of 2019. Here's hoping that Garcia is brought along slowly. Let's remember that he's only 21. He will grow and continue to get better over time. 
11:30 p.m.:  It is time for the co-main event of Canelo vs. Kovalev: Ryan Garcia vs. Romero Duno in lightweight action. Garcia (18-0, 15 KOs) was initially scheduled to fight Avery Sparrow in the co-main event of the Jaime Munguia-Patrick Allotey card in Carson, Calif., on Sept. 14, but the fight was canceled after Sparrow was arrested before the weigh-ins on an outstanding warrant. Golden Boy Promotions attempted to keep Garcia on the card and have him face Duno on 24 hours' notice.
That didn't work out, but less than a week later, Garcia and Golden Boy agreed to a multiyear deal that was deemed by Garcia as "one of the most lucrative deals for a prospect." Along with the new contract, Garcia was given the fight with Duno. 
Duno (21-1, 16 KOs) steps in the ring for the fourth time in 2019. He fought on the same card in which Garcia was supposed to fight and retired Ivan Delgado in the seventh round to run his winning streak to 12. 
We'll know how good Garcia is after this fight. Duno is as legit as they come. Can he derail the Garcia hype train, or is the 21-year-old with 3.7 million Instagram followers the real deal?
Seniesa Estrada earns decision over Marlen Esparza 
10:50 p.m.: Estrada def. Esparza by unanimous decision (90-81, 89-82, 88-83) to win the vacant interim WBA women's flyweight title. 
The fight went to the scorecards after the ninth round because Robert Byrd asked Esparza between Rounds 9 and 10 whether she could see. Esparza said no and Byrd waved off the fight. Because the fight ended due to an accidental head-butt, the bout went to the judges' scorecards. 
The three-minute rounds made the fight more entertaining. Normally, when the rounds are two minutes, the fighters are just getting into a rhythm when the horn sounds to end the round. The head-butt clearly took its toll on Esparza and Estrada capitalized for the remainder of the contest, to the point Esparza was forced to quit on the stool.
10:31 p.m.:  A fun fight through five rounds. Very shocked the fight is continuing after Esparza suffered a deep gash on her forehead after a clash of heads in the fifth round. I have never seen a hole in a fighter's head like that. 
10:06 p.m.: Up next at Canelo vs. Kovalev, Seniesa Estrada and Marlen Esparza meet for the vacant interim WBA women's flyweight title. Estrada (17-0, seven KOs) is on a roll, having stopped her last five opponents. Esparza (7-0, one KO) fights for the second time since having a baby in January. The 2012 Olympian returned in July, defeating Sonia Osorio by unanimous decision. 
Remember, this fight is 10 rounds, and each round will be three minutes, which is long overdue for women fighters. Esparza has fought three-minute rounds in the past, but it will be the first time for Estrada. Intrigued to see the strategy both women employ with having more time. 
Blair Cobbs gets dropped, rebounds to stop Carlos Ortiz
9:45 p.m.: Cobbs def. Ortiz by TKO at 3:00 of the sixth round to win the vacant NABF welterweight title. 
Ortiz walked back to his corner after getting sent to the canvas and told his corner his ribs hurt after a series of hard body shots in the sixth and could not come out for the seventh round. 
After getting dropped in the first round, Cobbs fought smarter and stayed away from Ortiz's left hand. When Cobbs saw an opening in Ortiz, he pounced with one hard shot after another. 
The 29-year-old can talk as well as he fights and is starting to become must-see. The hope here is that he continues to be brought along slowly and that perhaps in late 2020 or early 2021 he'll be competing for a world title. 
9:37 p.m.:  Cobbs returns the favor in the sixth round with a left hook followed by a right hand to send Ortiz to the mat. Cobbs is well in control. Only a matter of time.
9:20 p.m.:  Ortiz drops Cobbs with a left hook at the end of the first round. Cobbs was dropped by Villalobos in his last fight. He recovered just fine in that fight. Can he do the same here?
9:16 p.m.: Love Cobbs' entrance: He came out to the music of WWE legend Triple H. Just wish he would he would spit water when he walked into the ring.
9:15 p.m.:  The Canelo vs. Kovalev main card begins with Carlos Ortiz vs. Blair Cobbs for the vacant NABF welterweight title. Ortiz (11-4, 11 KOs) comes in having lost three consecutive bouts. Cobbs (12-0-1, eight KOs) fights for the fourth time in 2019. In his most recent fight, Cobbs knocked out Steve Villalobos in August. This should be nothing more than a showcase fight for Cobbs.
Canelo vs. Kovalev undercard results
8:56 p.m.: Evan Holyfield def. Nick Winstead by TKO at 0:16 of the first round.
Holyfield came out and went right at Winstead with a barrage of shots punctuated by a short right cross that sent Winstead to the canvas. Right as Winstead rose to his feet, the referee stopped it. A horrible stoppage. It was very premature. Winstead wasn't going to win, but you have to give him a bit of time to see if he could come back. It's hard to assess the 22-year-old Holyfield based on this short contest. 
8:52 p.m.: The final preliminary bout of Canelo vs. Kovalev features the professional debut of Evan Holyfield, the son of former heavyweight champion Evander Holyfield, taking on current MMA amateur fighter Nick Winstead in junior middleweight action.
8:50 p.m.:  Welcome to DAZN News' live coverage of the WBO light heavyweight title fight between Canelo Alvarez and Sergey Kovalev. Grab the refreshments and stay locked in for what should be an exciting night of action. Here's what happened in the first three fights of the night:
Bakhram Murtazaliev def. Jorge Fortea by unanimous decision (120-108, 119-109, 118-110); junior middleweights.
Tristan Kalkreuth def. Twon Smith via unanimous decision (40-36, 40-36, 39-37); cruiserweights.
Meiirim Nursultanov def. Cristian Olivas by unanimous decision (100-90, 100-90, 100-90); middleweights.
You can watch the undercard on DAZN's social media channels via YouTube , Twitter and Facebook .
What time does Canelo vs. Kovalev start?
Undercard : 6:30 p.m. ET
Main card : 9 p.m. ET
Canelo-Kovalev main event : 12:15 a.m. ET (approximate)
The Canelo-Kovalev undercard will begin at 6:30 p.m. ET from the MGM Grand Garden Arena in Las Vegas. The main card will follow at 9 p.m. ET. The Canelo-Kovalev fight is expected to start about 12:15 a.m. ET, although it will depend on the length of the earlier fights. It also depends on the length of UFC 244, as the Canelo-Kovalev fight will start after Jorge Masvidal vs. Nate Diaz is over.
Canelo vs. Kovalev fight card
| | | |
| --- | --- | --- |
| Matchup | Class | Belt |
| Canelo Alvarez vs. Sergey Kovalev | Light heavyweight | WBO |
| Ryan Garcia vs. Romero Duno | Lightweight |   |
| Seniesa Estrada vs. Marlen Esparza | Flyweight | WBA (interim) |
| Blair Cobbs vs. Carlos Ortiz | Welterweight | NABF |
| Evan Holyfield vs. Nick Winstead | Jr. middleweight |   |
| Bakhram Murtazaliev vs. Jorge Fortea | Jr. middlweight |   |
| Tristan Kalkreuth vs. Twon Smith | Cruiserweight |   |
| Meiirim Nursultanov vs. Cristian Olivas | Middleweight |   |
Canelo vs. Kovalev latest news 
— Not sure how you can watch Saturday's megafight? All the information is right here .
— Who wins? Canelo or Kovalev? DAZN News talks with some of the top industry experts, who give their pick .
—  Sergey Kovalev plans on making sure that Canelo Alvarez doesn't go back to 160 pounds with his title.
— Canelo discusses the possibility of one day moving up to cruiserweight .
— Go behind the scenes with Canelo and Kovalev in "40 Days."