Sergey Kovalev plans to send Canelo Alvarez back to middleweight empty-handed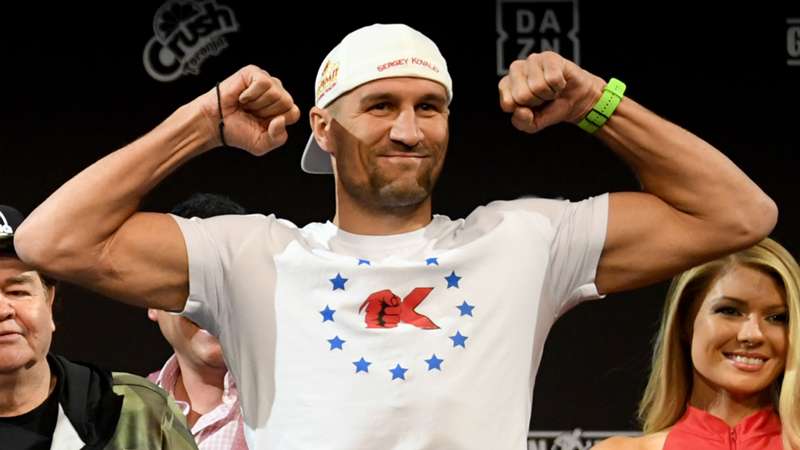 DAZN
LAS VEGAS — There was a time when Sergey Kovalev was arguably the No. 1 pound-for-pound fighter in boxing. He was named Fighter of the Year by The Ring magazine back in 2014 and was seemingly an unstoppable force as a unified light heavyweight champion.
And then a fighter from a lower weight class challenged Kovalev and removed the veil of invincibility when Andre Ward earned a hotly contested unanimous decision in November 2016. Once the chink in The Krusher's armor was exposed, Ward shattered what was left when he stopped Kovalev in their rematch in June of the following year. 
A lot of things have changed since those two fights with Ward, but Kovalev (34-3-1, 29 KOs) finds himself in a similar position ahead of his Nov. 2 showdown with Canelo Alvarez (52-1-2, 35 KOs) at the MGM Grand Garden Arena in Las Vegas. 
He's once again a world champion and is being challenged by a smaller fighter who is daring to be great at his expense. 
However, Kovalev won't be walking into the ring the same man he was when he met Ward. He's no longer recognized as one of the top pound-for-pound fighters in the world, nor is he the indestructible force that fought for boxing superiority against Ward. Nevertheless, Kovalev has plans to turn back the challenge of the biggest attraction in boxing and place himself back among the best fighters in the world. 
Kovalev says that he is now a "matured" 36-year-old fighter who has hired the services of trainer Buddy McGirt and plans to return to his roots when he faces Alvarez in what he deems as the "most dangerous fight" of his career. 
It's been a long road to get back to this point, and a victory would likely put him into the mix again as one of the best in the world.
"I always believed I would be back at this level," Kovalev said to a room of reporters ahead of the final press conference before his clash with Canelo. "I never thought I would stop my boxing career as a loser. My goal has always been to end my boxing career as a champion, and this time I'll be ready."
After being stopped by Ward, Kovalev won his next two fights before being knocked out by Eleider Alvarez last August. Many assumed that it would be the end of the road for the Russian, but Kovalev bounced back and won a rematch by unanimous decision in February. Kovalev demonstrated a punishing jab and boxing savvy in the return bout, and that could be attributed to McGirt, who replaced John David Jackson in Kovalev's corner and took him back to his amateur roots. 
"He sent me a video of his amateur fights, and I asked him what had happened to that guy," McGirt explained. "He told me he was now 'The Krusher' and I told him that he had to be a smarter Krusher."
McGirt has been diligent in getting his pupil back to using his technical prowess ahead of the fight with Canelo. 
"Buddy doesn't want to change my style," Kovalev revealed. "He reminds me of my old style, and that's given me all the motivation that I need."
Rather than look for the knockout, McGirt has alluded to his student working behind the jab to set up his power shots rather than rush the process. 
"Everybody's not gonna go down when you hit them," McGirt said. "So you got to set traps and take your time. If you want to have longevity in this game, you can't keep fighting like how Sergey used to. You have to change up, and he has the ability to do it." 
The former unified champion has shown a great deal of respect for his opponent, who is moving up two divisions from middleweight, and everything he has accomplished. But he isn't interested in being another notch under the Mexican's belt. Instead, unlike the fights with Ward, Kovalev has plans to send Canelo back to where he came from. 
"I want to make this a dangerous fight for him and stop his idea of staying in the light heavyweight division."